This is a website displaying the art
of sculptor/artist, Martin Ardito.
Click on one of the links for an online
art show of epoxy sculptures including
squids, whales, sharks, giant insects,
and of course, monsters and aliens.
Updated May 2019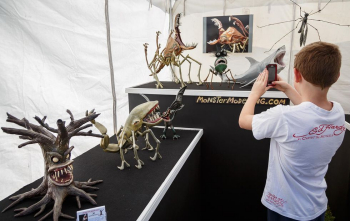 Picture above is provided by the Palm Beach Post.
Monster Modeling at Artigras Fine Arts Festival 2015 Jupiter,Fl.
Best in Show - emerging artist category


RELATED HOBBIES
********************************

*Click here for alien diorama video*

Click on pic below and check out some cool
scale model construction replicas.
Updated November 2016

Click pic below and learn to build monster and/or
character models and put them into incredible scenes
using digital imaging and computer editing.
e-mail me at:
monstermodelingmartin@gmail.com